11.05.2018 | Ausgabe 7/2018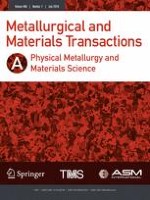 Liquid–Solid Interaction in Al-Si/Al-Mn-Cu-Mg Brazing Sheets and Its Effects on Mechanical Properties
Zeitschrift:
Autoren:

H. Jin, M. S. Kozdras, B. Shalchi Amirkhiz, S. L. Winkler
Wichtige Hinweise
Manuscript submitted January 25, 2018.
Abstract
The liquid–solid interaction during brazing at 592 °C to 605 °C and its effects on mechanical properties were investigated in a series of Al-Si/Al-Mn-Cu-Mg brazing sheets with different Mg contents. Depending on the Mg level in core alloy and the brazing temperature, critical changes of local chemistry and microstructure related to the liquid–solid interaction occur, including solid-state diffusion, uniform clad–core interface migration, and grain boundary penetration (GBP). When the Mg in core alloy is below 1 wt pct, the interaction is limited and the formation of a dense precipitation band due to solid-state diffusion of Si from the clad to the core is dominant. As the Mg exceeds 1 wt pct, very extensive interaction occurs resulting in clad–core interface migration and GBP of Si into the core, both involving local melting and re-solidification of the core alloy. Whenever Si from the clad encounters Mg in the core due to the interaction, Mg2Si precipitates are formed leading to significant improvement of strength. However, the interface migration and GBP drastically reduce the ductility, due to the segregation of coarse secondary phase particles along the newly formed grain boundaries.