01.08.2016 | Original Paper: Nano- and macroporous materials (aerogels, xerogels, cryogels, etc.) | Ausgabe 2/2016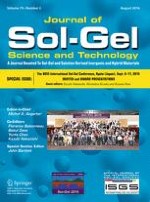 Lithium insertion properties of mesoporous nanocrystalline TiO2 and TiO2–V2O5 microspheres prepared by non-hydrolytic sol–gel
Zeitschrift:
Autoren:

A. M. Escamilla-Pérez, N. Louvain, M. Kaschowitz, S. Freunberger, O. Fontaine, B. Boury, N. Brun, P. H. Mutin
Wichtige Hinweise
Electronic supplementary material
The online version of this article (doi:
10.​1007/​s10971-016-4037-9
) contains supplementary material, which is available to authorized users.
Abstract
Mesoporous nanocrystalline TiO
2
and TiO
2
–V
2
O
5
microspheres were prepared by non-hydrolytic sol–gel from TiCl
4
, VOCl
3
, and
i
Pr
2
O at 110 °C without any solvent or additives. The samples were characterized by elemental analysis, X-ray diffraction, Raman spectroscopy, scanning electron microscopy, nitrogen physisorption, and impedance measurements. At low vanadium loadings, only TiO
2
anatase was detected, and V
2
O
5
scherbinaite was also detected at high vanadium loadings. The texture of the samples depended on the V loading, but all the samples appeared built of primary nanoparticles (≈10–20 nm in size) that aggregate to form mesoporous micron-sized spheres. The lithium insertion properties of these materials were evaluated by galvanostatic measurements taken using coin-type cells, in view of their application as electrode for rechargeable Li-ion batteries. The mesoporous TiO
2
microspheres showed good performances, with a specific reversible capacity of 145 and 128 mAh g
−1
at
C
/2 and
C
, respectively (
C
= 335.6 mA g
−1
), good coulombic efficiency, and a moderate capacity fade (6 %) from the 2nd to the 20th cycle at
C
/20. Although the addition of V effectively increased the electronic conductivity of the powders, the specific reversible capacity and cycling performances of the TiO
2
–V
2
O
5
samples were only minimally improved for a 5 at% V loading and were lower at higher V loading.
Graphical Abstract
×