2021 | OriginalPaper | Buchkapitel
2. Living in Space by the Lens of Design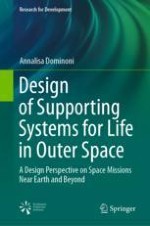 Erstes Kapitel lesen
Autor: Annalisa Dominoni
Abstract
On board the International Space Station (ISS) the interior of the habitation modules, in origin a cylindrical housing, is
covered
by racks—the modular storage system which contains all the experiments, facilities and equipment useful to the maintenance of the spaceship—and there is never enough room in a confined environment: for these reasons, astronauts live in an extremely chaotic space (Fig.
2.1
) very difficult to encode and where it is a
challenge
to maintain the sense of orientation, because on ISS we do not have up and down, unless by convention. They take 15 days to orient themselves in labyrinth paths that connect the various modules
working with terrestrial instruments and objects which are adapted for use in Space
such as machines and tools for physical exercises, or utensils for food preparation, consumption and conservation. They have
facilities
for personal hygiene with an "interface" for their needs not properly comfortable, not to mention all the physiological, psychological and perceptive alterations that the human being suffers in a confined environment with reduced gravity.