01.09.2014 | Ausgabe 11/2014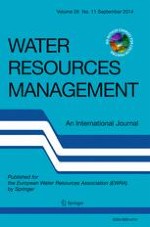 Local and Global Leak Laws
The Relationship Between Pressure and Leakage for a Single Leak and for a District with Leaks
Zeitschrift:
Autoren:

Marco Ferrante, Silvia Meniconi, Bruno Brunone
Abstract
The relationship between the functioning conditions of pipe systems and the leakage, or
leak law
, can be used at two different scales. At a local scale, i.e. for a single leak, it is derived from the classical orifice equation and, basing on experimental data, is modified to take into account all the relevant parameters it depends on (e.g., leak shape, pipe material and thickness, …). At a global scale, for a whole district or a part of a pressurized pipe system with several leaks, the same relationship is often used, basing on the assumption that the combination of local leak laws produces a similar global leak law.
In this paper the effects of the spatial variation of the leak law parameters at the local scale on the leak law at a global scale are analyzed. Two leak laws derived from the orifice equation, the power law and the linear law, are considered. Results suggest that the global leak law exponent is larger than the corresponding mean local leak law exponent since it takes into account the spatial variability of the quantities affecting leakage.