2006 | OriginalPaper | Buchkapitel
Local and Global Searches of Approximate Optimal Designs of Regular Frames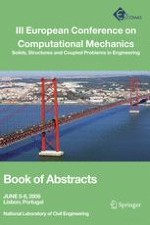 Erstes Kapitel lesen
Autor: Makoto Ohsaki
Verlag: Springer Netherlands
In this paper, methods of local and global searches of approximate optimal designs are presented for regular frames subjected to static loads. Constraints are given for stresses and displacements.
Recently, it has been pointed out that there may exist many fully stressed frames with almost the same total structural volume [
1
]. Therefore, obtaining only one solution will not be enough for practical purpose, where several solutions satisfying stress constraints should be compared in view of other performance measures such as eigenfrequencies and requirements in construction process. Furthermore, the objective function may not be strictly minimized; i.e., it will be helpful for the designers if several approximate solutions with different distributions of cross-sectional areas are obtained.
Jog and Haber [
2
] suggested that the nonuniqueness of the solution to a compliance optimization problem can be detected by the singular values of the matrix defined as the gradients of the equivalent force vector with respect to the design variables. However, they did not show how the singular vectors are used for finding approximate optimal solutions.
In this paper, we first demonstrate nonuniquesness of the optimal solution by a continuous beam with periodic boundary conditions for uniform loads. The optimal solutions are locally searched from a solution found from an arbitrary generated initial solution. The search direction is determined by singular value decomposition of the stiffness matrix with respect to the cross-sectional areas or the sensitivity matrix of the constraints.
Approximate optimal solutions are next globally and consecutively found so as to maximize the distance from the already found solutions under stress and displacement constraints. The distance between the solutions is defined by the Euclidean norm of the differences in the cross-sectional areas. The constraint is given for the total structural volume, where the specified upper bound is slightly larger than the objective value of an optimal solution. The effectiveness of the proposed methods is demonstrated in application to a 10 × 10 and 3 × 27 plane frames. It is shown that approximate optimal solutions have been successfully found using the singular vectors of the stiffness matrix with respect to the crosssectional areas. However, accuracy of the solutions can be improved using the singular vectors of the sensitivity matrix of the constraints.