01.01.2015 | Original Paper | Ausgabe 1/2015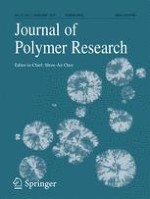 Local and segmental motion in highly transparent and low-k poly(ether-imide) films
Zeitschrift:
Autoren:

Mariana-Dana Damaceanu, Maria Bruma
Wichtige Hinweise
Paper dedicated to the 65th anniversary of "Petru Poni" Institute of Macromolecular Chemistry of Romanian Academy, Iasi, Romania.
Abstract
One series of poly(ether-imide)s containing oxadiazole units have been studied with respect to the relationship between the chains structure and their physical properties, particularly thermal transitions and dielectric behavior with emphasis on the local and segmental motion, and optical clarity. High-temperature solution polycondensation reactions of an oxadiazole-containing diamine with different bis(ether-anhydride)s resulted in easy soluble polymers with high molecular weights. The variation of the real and imaginary parts of the dielectric permittivity in a large frequency range, from 10 to 106 Hz, and in a wide temperature domain, from −150 to 250 °C of the tough free-standing films prepared from these polymers was registered. The dielectric constant values, measured at room temperature and in the frequency domain of 10 Hz −1 MHz, were lower or comparable with those of Kapton HN film measured under similar conditions. The dielectric spectroscopy data were corroborated with the dynamo-mechanical analysis ones to highlight the subglass and glass relaxations encountered in these polymer films. The γ and β sub-glass viscoelastic and dielectric relaxations were explored in order to understand their molecular origins, being discussed in correlation with polymers repeating unit structure. The optical transparency of the poly(ether-imide) films has been also studied, to survey their potential for use as flexible substrates in electronic and optical devices.