01.07.2013 | Ausgabe 3-4/2013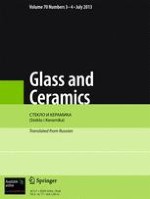 Local crystallization of glasses aided by copper vapor laser
Zeitschrift:
Autoren:

S. V. Lotarev, A. S. Lipat'ev, N. V. Golubev, E. S. Ignat'eva, G. E. Malashkevich, A. V. Mudryi, Yu. S. Priseko, R. Lorenzi, A. Paleari, V. N. Sigaev
Wichtige Hinweise
Translated from
Steklo i Keramika
, No. 4, pp. 21 – 25, April, 2013.
It is shown that a copper vapor laser can be used effectively for local crystallization of glasses with precipitation of active phases on a surface or in the interior volume of glass depending on its composition. Aprocedure is proposed for using a laser beam to form nanostructural waveguides with broadband near-IR luminescence peaking at 1300 – 1450 nm in glass with composition (mol.%) 7.5 Li2O, 2.5 Na2O, 20 Ga2O3, 35 GeO3 and 35 SiO2 doped with 0.1 – 0.5% NiO. A mechanism of self-limited laser heating, impeding subsequent growth of the nanocrystals formed, is demonstrated. The results of the investigations are of interest for developing active elements of integrated optics.