16.11.2018 | Ausgabe 4/2018 Open Access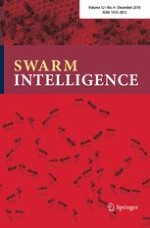 Local information-based control for probabilistic swarm distribution guidance
Zeitschrift:
Autoren:

Inmo Jang, Hyo-Sang Shin, Antonios Tsourdos
Abstract
This paper proposes a closed-loop decentralised framework for
swarm distribution guidance
, which disperses homogeneous agents over bins to achieve a desired density distribution by using feedback gains from the current swarm status. The key difference from existing works is that the proposed framework utilises only
local information
, not
global information
, to generate the feedback gains for stochastic policies. Dependency on local information entails various advantages including reduced inter-agent communication, a shorter timescale for obtaining new information, asynchronous implementation, and deployability without a priori mission knowledge. Our theoretical analysis shows that, even utilising only local information, the proposed framework guarantees convergence of the agents to the desired status, while maintaining the advantages of existing closed-loop approaches. Also, the analysis explicitly provides the design requirements to achieve all the advantages of the proposed framework. We provide implementation examples and report the results of empirical tests. The test results confirm the effectiveness of the proposed framework and also validate the robustness enhancement in a scenario of partial disconnection of the communication network.