01.01.2015 | Ausgabe 1/2015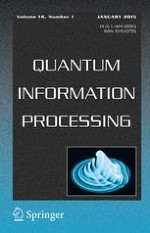 Local quantum uncertainty and bounds on quantumness for orthogonally invariant class of states
Zeitschrift:
Autoren:

Ajoy Sen, Amit Bhar, Debasis Sarkar
Abstract
Local quantum uncertainty was introduced as a measure of quantum uncertainty in an quantum state as achievable on single local measurement. However, such quantity do satisfy all necessary criteria to serve as measure of discord-like quantum correlation and it has no closed formula except only for
\(2\otimes n\)
system. Here, we consider orthogonal invariant class of states which includes both the Werner and Isotropic class of states and explore the possibility of closed form formula. Further, we extend our quest to the possibility of closed form of geometric discord and measurement-induced nonlocality for this class. We also provide a comparative study of the bounds of general quantum correlations with entanglement, as measured by negativity, for an interesting subclass of states.