01.06.2006 | Report | Ausgabe 5/2006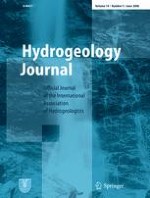 Localization of water bearing fractured zones in a hard rock area using integrated geophysical techniques in Andhra Pradesh, India
Zeitschrift:
Autoren:

Sushobhan Dutta, N. S. Krishnamurthy, T. Arora, V. A. Rao, S. Ahmed, J. M. Baltassat
Abstract
Knowledge of the existence of fracture zones, their extent, intensity and direction is very useful for assessing groundwater in hardrock regions and in this context geophysical methods are widely accepted as a powerful means of study. In the modern era of exploration, application of the Resistivity Imaging technique gives a new opportunity for groundwater study in hardrock regions. Exploration surveys were conducted at one of the important sites in Maheshwaram watershed, Andhra Pradesh, India with a multielectrode resistivity imaging system. To reduce the ambiguity of geophysical interpretation some complementary geophysical studies like ground Magnetic and VLF were also carried out.
A number of 2D resistivity images were prepared in a grid pattern, which clearly show the weathered and fractured zones in different parts of the study area. With the help of all 2D profiles a quasi-3D image has been created, which indicates the orientation and extension of the fracture zone in a horizontal as well as vertical direction in the study area. Strong agreement exists among the anomalies identified using the ground magnetic, VLF and resistivity imaging methods. The litholog data available in the study area also helps to interpret geophysical results to find a potential groundwater bearing zone in that area.