01.04.2013 | Research Paper | Ausgabe 4/2013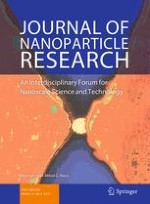 Localized surface plasmon resonance (LSPR) study of DNA hybridization at single nanoparticle transducers
Zeitschrift:
Autoren:

T. Schneider, N. Jahr, J. Jatschka, A. Csaki, O. Stranik, W. Fritzsche
Wichtige Hinweise
Electronic supplementary material
The online version of this article (doi:
10.​1007/​s11051-013-1531-7
) contains supplementary material, which is available to authorized users.
Abstract
The effect of DNA–DNA interaction on the localized surface plasmon resonance of single 80 nm gold nanoparticles is studied. Therefore, both the attachment of the capture DNA strands at the particle surface and the sequence-specific DNA binding (hybridization) of analyte DNA to the immobilized capture DNA is subject of investigations. The influence of substrate attachment chemistry, the packing density of DNA as controlled by an assisting layer of smaller molecules, and the distance as increased by a linker on the LSPR efficiency is investigated. The resulting changes in signal can be related to a higher hybridization efficiency of the analyte DNA to the immobilized capture DNA. The subsequent attachment of additional DNA strands to this system is studied, which allows for a multiple step detection of binding and an elucidation of the resulting resonance shifts. The detection limit was determined for the utilized DNA system by incubation with various concentration of analyte DNA. Although the method allows for a marker-free detection, we show that additional markers such as 20 nm gold particle labels increase the signal and thereby the sensitivity significantly. The study of resonance shift for various DNA lengths revealed that the resonance shift per base is stronger for shorter DNA molecules (20 bases) as compared to longer ones (46 bases).