06.12.2019 | Ausgabe 1/2020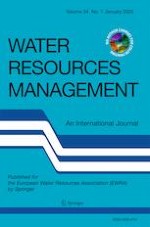 Locating of Probabilistic Leakage Areas in Water Distribution Networks by a Calibration Method Using the Imperialist Competitive Algorithm
Zeitschrift:
Autoren:

Reza Moasheri, Mohammadreza Jalili-Ghazizadeh
Wichtige Hinweise
Publisher's Note
Springer Nature remains neutral with regard to jurisdictional claims in published maps and institutional affiliations.
Abstract
Leakages in water distribution networks (WDNs), in addition to water loss, causes more problems such as water pollution and land subsidence. In this paper, a new method is proposed to determine the leaky areas in WDNs. At first, a WDN is divided into several virtual areas. Then, while leakage is considered as an additional demand of nodes, the simultaneous calibration of the demands and the roughness coefficient of pipes is carried out by the imperialist competitive algorithm (ICA). Finally, the leakage probability of each area is estimated. The proposed method was implemented in a model water network with three scenarios (one, two and six simultaneous leakages, respectively) and a real water network, with two different leaky scenarios. The results showed that the proposed algorithm can correctly predict the location of multi simultaneous leakages considering their values priority. However, with increasing the number of simultaneous leakages, the ability of the used optimization algorithm (ICA) was reduced as for the studied model network, the average errors of the roughness coefficient of pipes for the three scenarios were approximate 2.3, 3.2, and 4.5%, respectively. The proposed method can be utilized by water utilities for locating leaky areas.