06.12.2019 | Ausgabe 1/2020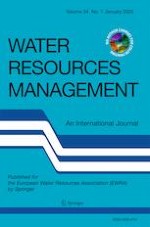 Locating Optimal Position of Pumping Wells in Aquifer Using Meta-Heuristic Algorithms and Finite Element Method
Zeitschrift:
Autoren:

Abolfazl Akbarpour, Mohammad Javad Zeynali, Mohammad Nazeri Tahroudi
Wichtige Hinweise
Publisher's Note
Springer Nature remains neutral with regard to jurisdictional claims in published maps and institutional affiliations.
Abstract
An optimal pumping policy ensures the sustainability of groundwater resources when groundwater is extracted. In this paper, several simulation models (genetic algorithms, particle swarm optimization and firefly algorithm) are used to evaluate optimal pumping policy in an hypothetical aquifer. In this study, the level of groundwater in an unconfined hypothetical aquifer with a surface area of 1.5 km2 and three different hydraulic conductivities with a thickness of 100 m, as well as four pumping wells were investigated. The finite element method was employed to estimate the groundwater level of the aquifer and the mentioned algorithms were used to optimize the position of the pumping wells. The position of the pumping wells with a specific discharge is optimized to minimize groundwater drawdown in the aquifer. The results indicated that with increasing number of iterations, there was little improvement in the results of the FA, and after five iterations, the algorithm entrapped in local optima. By investigating the values of the objective function of two other algorithms (PSO and GA), the results indicated that the GA has a better performance than the PSO in optimizing groundwater pumping well locations. As a result, the GA reduces the value of objective function by 31% compared to the PSO algorithm. With this value of objective function, the maximum drawdown groundwater was about 2.5 m in the southwest of aquifer. The results indicated that the optimum location of wells is on the western side of the aquifer where the aquifer boundary has a constant head on this side.