21.07.2017 | Ausgabe 4/2017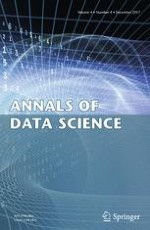 \(\alpha \)

Logarithmic Transformed Family of Distributions with Application
Zeitschrift:
Autoren:

Sanku Dey, Mazen Nassar, Devendra Kumar
Abstract
In this paper, a new three-parameter distribution, called
\(\alpha \)
logarithmic transformed generalized exponential distribution (
\(\alpha LTGE\)
) is proposed. Various properties of the proposed distribution, including explicit expressions for the moments, quantiles, moment generating function, mean deviation about the mean and median, mean residual life, Bonferroni curve, Lorenz curve, Gini index, Rényi entropy, stochastic ordering and order statistics are derived. It appears to be a distribution capable of allowing monotonically increasing, decreasing, bathtub and upside-down bathtub shaped hazard rates depending on its parameters. The maximum likelihood estimators of the unknown parameters cannot be obtained in explicit forms, and they have to be obtained by solving non-linear equations only. The asymptotic confidence intervals for the parameters are also obtained based on asymptotic variance covariance matrix. Finally, two empirical applications of the new model to real data are presented for illustrative purposes.