2019 | OriginalPaper | Buchkapitel
4. Logistic Regression (LR) Model and Landslide Susceptibility: A RS and GIS-Based Approach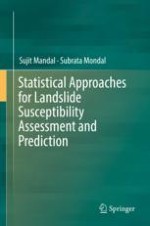 Erstes Kapitel lesen
Autoren: Sujit Mandal, Subrata Mondal
Abstract
The application of geo-informatics has brought a new dimension in the study of landslide susceptibility assessment and prediction all over the world for regional development and planning of mountain terrain. The present study is dealt with the preparation of a landslide susceptibility map of Darjeeling Himalaya, a tectonically active section of Himalayan mountain range using logistic regression model on GIS environment. A landslide inventory map was developed in consultation with topographical maps, Google earth image, satellite images, and historical landslide events and was verified with the field data. In the study 15 landslide conditioning factors, i.e. elevation, slope aspect, slope angle, slope curvature, geology, soil, lineament density, distance to lineament, drainage density, distance to drainage, stream power index (SPI), topographic wetted index (TWI), rainfall, normalized differential vegetation index (NDVI) and land use and land cover (LULC) were taken into account and finally their integration has been made on GIS environment with the help of estimated logistic regression co-efficient values to produce landslide susceptibility map of Darjeeling Himalaya. The produced susceptibility map satisfied the decision rules and the overall accuracy was acceptable.
−2 Log likelihood, cox
&
Snell R Square,
and
Nagelkerke R Square values
proved that the independent variables were statistically significant. The
success rate curve
showed the prediction accuracy of the landslide probability map which is also desirable (71.5).