2012 | OriginalPaper | Buchkapitel
Long-Term Care Insurance: Partnership or Crowding Out?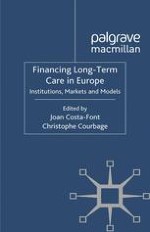 Erstes Kapitel lesen
Autoren: Joan Costa-Font, Christophe Courbage
Verlag: Palgrave Macmillan UK
The design of long-term care1 (LTC) financing schemes is slowing down the transformation of protection and insurance structures that address the problems of old-age care. Most of these are not new, but highly entrenched in the organization of modern society and in State intervention in the area of welfare. However, to date there are good reasons to believe that demand triggers are markedly exacerbated by the rapid ageing of the European populations together with the transformation of family structures, and its associated norms that impinge effects on caregiving duties. The latter encompasses the redefinition of traditional intergenerational contracts in place to provide 'support for care'. However, the expansion of public insurance alone, the solution that was prevalent in the times of the so-called 'golden age of the welfare State', is not viable any more today. Indeed, public schemes face significant constraints to the expansion of welfare services that are not always perceived as welfare-improving. Similarly, current pressures to cut down excessive public expenditure do nothing but exacerbate the already tight constraints to the expansion of public insurance. On the other hand, the solution of pre-welfare State times, based on family caregiving, is not a satisfactory arrangement given the constraints of modern life unless it is complemented by State and market alternatives.