28.04.2020 | Ausgabe 1/2020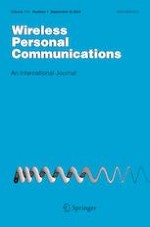 Long Term Irradiance Statistics for Optical GEO Satellite Feeder Links: Validation Against Experimental Data
Zeitschrift:
Autoren:

Nikolaos K. Lyras, Charilaos I. Kourogiorgas, Athanasios D. Panagopoulos, Konstantinos P. Liolis, Zoran Sodnik
Wichtige Hinweise
Publisher's Note
Springer Nature remains neutral with regard to jurisdictional claims in published maps and institutional affiliations.
Abstract
In this paper, optical feeder links to support high throuput satellite communication systems are studied. A methodology for the generation of the received irradiance/power time series for GEO optical feeder links (ground-to-GEO), that reproduces the long term irradiance/power statistics, is presented. In the proposed synthesizer, the atmospheric phenomena under clear sky that degrade the optical signal and the weak turbulence effects, i.e. scintillation, beam wandering and beam spreading, are considered. The proposed methodology takes advantage of the use of stochastic differential equations driven by fractional Brownian motion, for the time series synthesis. The methodology refers to the transmission of a single collimated beam. For the modelling of turbulence effects, Kolmogorov turbulence is assumed and the model is based on Rytov theory under weak fluctuations. Additionally, the proposed model is validated in terms of first order statistics with experimental data from the bi-directional optical GEO ARTEMIS satellite link experiment showing good agreement. Finally, the synthesizer is employed for the generation of fist order statistics for different transmission scenarios.