01.09.2015 | Thematic Issue | Ausgabe 5/2015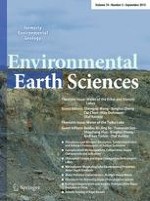 Long-term variations of TN and TP in four lakes fed by Yangtze River at various timescales
Zeitschrift:
Autoren:

Jian Huang, Xixi Wang, Beidou Xi, Qiujin Xu, Yan Tang, Keli Jia, Shouliang Huo, An Da, Ruizhong Gao, Hongliang Liu, Xiaoguang Li, Minmin Liu, Jingying Mao
Abstract
Although some previous studies examined temporal trends of nutrients in lakes, few of them considered nonstationarity caused by step change in time series and might not capture peaks and troughs. The objectives of this study were to: (1) present an innovative statistical approach that takes into account such nonstationarity; and (2) use this approach to analyze long-term nutrient data from four Chinese lakes, including Lake Dongting, Poyang, Chao and Tai, to investigate the temporal trends of TN and TP in the past decades. The results revealed that both TN and TP in Lake Dongting and Lake Poyang exhibited an upward trend at annual, seasonal, and monthly timescales. Nutrient concentration in Lake Dongting displayed a step change around 2003, a downward trend in April before 2003 but an upward trend in April after 2003 because of point and non-point source pollution, overexploitation, and dam construction. TN concentration for Lake Chao and Lake Tai experienced step changes around 1999 and 2002, respectively. For Lake Chao, spanning the years before the step change, significant (significance level of
α
= 0.05) upward trends in TN were detected at the annual scale as well as in summer and May, but spanning the years after the step change, significant downward trends were detected. For Lake Tai, significant upward trends before the step change and downward trends after the step change were detected at the annual scale and in October.