01.09.2012 | Ausgabe 3/2012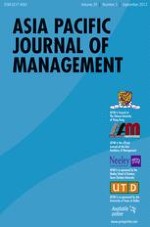 Longitudinal effects of job insecurity on employee outcomes: The moderating role of emotional intelligence and the leader-member exchange
Zeitschrift:
Autoren:

Ting Cheng, Guo-hua Huang, Cynthia Lee, Xiaopeng Ren
Wichtige Hinweise
This research was supported by grant from Finnish Work Environment Fund (no. 109404) for Ting Cheng's Doctoral Dissertation titled "Revisiting the buffers of job insecurity: Investigating new buffering factors between perceived job insecurity and employee outcomes."
This paper was partially funded by the Hong Kong Government's Project (no. HKBU241709), The National Natural Science Foundation of China (NSFC; grant no. NSCF70201010), and the Walsh Professorship awarded to Cynthia Lee by Northeastern University.
The work in this paper was partially supported by the Research Grants Council of the Hong Kong Special Administrative Region, China (Project HKBU241709) and the Faculty Research Grants of the Hong Kong Baptist University (Project 0708-134) awarded to Guo-hua Huang.
Abstract
The longitudinal study reported herein examines the buffering effects of individual and social resources (emotional intelligence and the leader-member exchange relationship) on the relationships between job insecurity and employee reactions (somatic complaints and organizational commitment) and the relationships between employee reactions over time. The results of this study, which was based on data drawn from 157 nurses employed by three hospitals in China, indicate that emotional intelligence moderates the relationship between job insecurity and somatic complaints at both Time 1 (T1) and Time 2 (T2) and that the leader-member exchange relationship (LMX) buffers the effects of somatic complaints at T1 on organizational commitment at T2. Overall, the findings reveal that the ability of employees to deal with their emotions and their relationships with their supervisors is an important resource that serves to protect employee outcomes when job security is uncertain.