Erschienen in: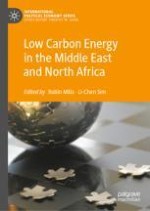 2021 | OriginalPaper | Buchkapitel
1. Low Carbon Energy in the Middle East and North Africa: Panacea or Placebo?
Abstract
Over the next few decades, favorable economics for low carbon energy sources combined with stagnant oil demand growth will facilitate a shift away from today's fossil fuel-based energy system. Although the transition will impact all countries, its effects are arguably more profound in the Middle East and North Africa (MENA). This is because MENA countries are major hydrocarbon producers and significant hydrocarbon consumers and because hydrocarbons underwrite the ruling bargain between states, societies, and business. This chapter provides an overview of the two major themes explored throughout this volume. The first explores the role, evolution, interactions, and efficacy of energy stakeholders; the second relates to the geopolitical balance at the bilateral and regional levels during the energy transition. The contention is that politics, more so than economics or environmental pressure, will determine the speed and scope of low carbon energy uptake in MENA. While politics facilitates the transition to a low carbon energy system in some countries, it complicates the pathway for others.