01.04.2014 | Ausgabe 4/2014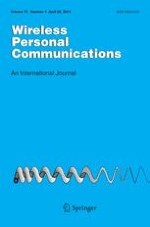 Low Complexity User Scheduling, Ordering and Transmit Covariance Matrix Optimization Algorithms for Successive Zero-Forcing Precoding
Zeitschrift:
Autoren:

Shreeram Sigdel, Witold A. Krzymień
Wichtige Hinweise
This work was in part presented at and published in the proceedings of the
69th IEEE Vehicular Technology Conference (VTC'09-Spring)
, Barcelona, Spain, April 2009, and the
10th IEEE International Workshop on Signal Processing Advances in Wireless Communications (SPAWC'09)
, Perugia, Italy, June 2009.
Abstract
In this paper we consider user scheduling, ordering and transmit covariance matrix optimization problems under successive zero-forcing (SZF) precoding for multiuser multiple-input multiple-output downlink. We propose a heuristic user scheduling metric and an intermediate user grouping technique to develop a low complexity greedy scheduling algorithm. A suboptimal user ordering technique is also proposed for transmit covariance matrix optimization under SZF. Proposed algorithm is of low complexity, but performs closely to the highly complex exhaustive search algorithm. For transmit covariance optimization under SZF, a dirty paper coding based algorithm has been previously proposed, which is computationally very complex. In this paper, we propose a suboptimal but much simplified algorithm, which employs an iterative procedure similar to a known multiple access channel (MAC) covariance optimization algorithm, but does not involve multiple levels of covariance matrix transformations. With the proposed suboptimal user ordering the exhaustive search through all possible user orders is avoided during transmit covariance matrix optimization resulting in a significant complexity reduction, and without a significant performance penalty. Simulation results show that the proposed algorithm performs very close to the known algorithm in the low SNR region.