01.08.2014 | Ausgabe 4/2014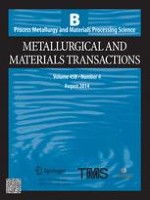 Low-Cost Process for Silicon Purification with Bubble Adsorption in Al-Si Melt
Zeitschrift:
Autoren:

Wenzhou Yu, Wenhui Ma, Guoqiang Lv, Yongsheng Ren, Yongnian Dai, Kazuki Morita
Wichtige Hinweise
Manuscript submitted August 21, 2013.
Abstract
The primary silicon and Al-Si alloy have been separated in hypereutectic Al-Si melt by the electromagnetic stirring and directional solidification processes. During the electromagnetic separation process, the behavior of a hydrogen bubble in Al-Si melt has been discussed. Furthermore, the bubble adsorption effect for the Si purification has been revealed. The results show that the bubble cavity formed in the lower part of the sample by pulling it up. The scanning electron microscope along with energy dispersive spectrometer (SEM-EDS) analysis indicated that a lot of impurities were adsorbed onto the surface of the bubble cavity that may be beneficial for the Si purification. By decreasing the pulling-up rates, the size of the bubble cavity in Al-Si alloy increased, which results in the decreasing of the impurity contents in primary silicon. In this work, the impurity content in primary silicon is 10.8 ppmw, which is obviously improved compared with the 777.57 ppmw in metallurgical silicon. It is a low-cost technology that will be a potential route for the Si purification.