21.01.2016 | Ausgabe 9-10/2016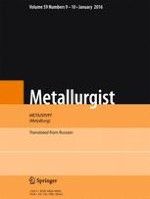 Low-Cost Treatment of Rolled Products Used to Make Long High-Strength Bolts
Zeitschrift:
Autoren:

A. A. Filippov, G. V. Pachurin, V. I. Naumov, N. A. Kuz'min
Wichtige Hinweise
Translated from Metallurg, No. 9, pp. 66–71, September, 2015.
The set of structural-mechanical properties of steel 40X has been optimized in preparation for the cold upsetting of long high-strength bolts. The properties were optimized by analyzing different factors that determine the quality of the sized rolled products used for the production of hardware items by cold upsetting. An efficient method was developed to prepare steel 40X rolled products with diameters of 9.65 and 11.7 mm and a 9.8 strength rating for the production of long high-strength short-head bolts without having to quench and temper the products. The low-waste technology that is proposed for preparation of the rolled products replaces spheroidizing annealing with the isothermal process of patenting. Such a substitution reduces energy and labor costs while improving the environmental characteristics of the production process and the reliability of bolted products. It also eliminates the formation of quench cracks, obviates the need for knurling the products, reduces the danger of the formation of defects on the threads, and lowers the cost of making long bolts. These changes in turn make it possible to shorten the production process and reduce the cost of producing high-strength bolts.