30.03.2020 | ORIGINAL ARTICLE | Ausgabe 4/2020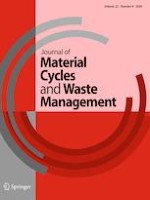 Low-toxic zeolite fabricated from municipal solid waste incineration fly ash via microwave-assisted hydrothermal process with fusion pretreatment
Zeitschrift:
Autoren:

Qian Chen, Ling Long, Xiaobo Liu, Xuguang Jiang, Yong Chi, Jianhua Yan, Xiaoli Zhao, Litan Kong
Wichtige Hinweise
Electronic supplementary material
Publisher's Note
Springer Nature remains neutral with regard to jurisdictional claims in published maps and institutional affiliations.
Abstract
Fusion pretreatment is introduced to the microwave-assisted hydrothermal process to improve the zeolite fabrication from municipal solid waste incineration (MSWI) fly ash. The fusion-pretreated microwave-assisted hydrothermal method (FMHM) and microwave-assisted hydrothermal method are conducted and systematically compared. With fusion pretreatment, the quartz is transformed into amorphous form, which is easier to dissolve into a hydrothermal solution and thus accelerates the zeolite fabrication process. The scanning electron microscope, X-ray diffraction, Fourier transform infrared measurement and thermal gravimetric analysis are performed, whose results suggest the formation of zeolite materials in the FMHM product, such as needle-like tobermorite and rose-like sodalite. The thermal gravimetric analysis indicates water adsorption of the FMHM product is improved. The cation exchange capacity of the FMHM product is 1.172 meq g−1, more than twofold larger than that of the MHM product. Additionally, the toxicity test indicates that the leakage of heavy metal ions from the FMHM product is dramatically reduced. The improved safety makes the zeolitic product synthesized from MSWI fly ash promising for further applications. FMHM significantly facilitates the disposal and reuse of the MSWI fly ash.