2018 | OriginalPaper | Buchkapitel
Ludonarrative Hermeneutics:
A Way Out

and the Narrative Paradox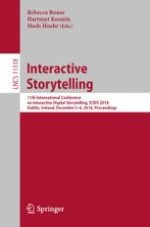 Erstes Kapitel lesen
Autoren: Christian Roth, Tom van Nuenen, Hartmut Koenitz
Abstract
The practice of designing Interactive Digital Narratives [IDN] is often described as a challenge facing issues such as the "narrative paradox" and avoiding the unintentional creation of "ludonarrative dissonance". These terms are expressions of a perspective that takes narrative and interactivity as dichotomic ends of a design trajectory, mirroring an enduring discussion in game studies between positions often cast as ludologists and narratologists. The dichotomy of ludo versus narrative is, in itself, problematic and is often the source of the very conflict it describes. In this paper, we investigate this issue through the example of the cooperative game
A Way Out
, in which two players team up to break out of prison. The game is designed with a narrative twist, involving the escalation and final resolution of the game's competitive motif in the final scene. To understand the user experiences of this reveal, and the concomitant consequences, we engage in a discursive analysis of "Let's Play" videos as a largely untapped resource for research. By analyzing the interactions and performances in these videos, we can more clearly understand player responses to unsatisfying IDN design. As a result we introduce the notion of a 'hermeneutic strip', extending Koenitz' SPP model to locate and describe the involved processes of narrative cognition in IDN work.