26.02.2019 | Original Contribution | Ausgabe 4/2019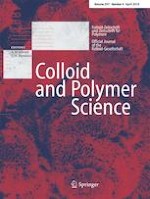 Luminescent core@shell nanoparticles functionalized with PEG for biological applications
Zeitschrift:
Autoren:

Shivani Bharti, Gurvir Kaur, Shikha Gupta, S. K. Tripathi
Wichtige Hinweise
Publisher's note
Springer Nature remains neutral with regard to jurisdictional claims in published maps and institutional affiliations.
Abstract
In this manuscript, synthesis of TGA (thioglycolic acid) capped core@shell CdSe@CdS nanoparticles (NPs) has been done using chemical route. PEG-diamine has been used to functionalize spherical core@shell CdSe@CdS NPs by carbodiimide chemistry, which is very simple and effective method to make stable bond between NH2 group and COOH group. Optical properties include UV-Visible absorption and fluorescence emission that show the higher polydispersity and enhanced emission intensity of CdSe@CdS-PEG NPs in comparison to CdSe@CdS core@shell NPs. FT-IR results of CdSe@CdS-PEG NPs indicate the intermolecular interaction between PEG-diamine and TGA capped CdSe@CdS core@shell NPs. The emission intensity of CdSe@CdS and CdSe@CdS-PEG NPs is highest when dispersed in pH 6 medium which is low acidic in nature. Therefore, these colloidal NPs can be used for applications in the pH range (6–8), due to their stability and higher fluorescence emission in this pH range.