01.12.2009 | Ausgabe 2-3/2009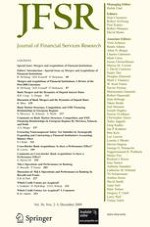 M&A Operations and Performance in Banking
Zeitschrift:
Autoren:

Elena Beccalli, Pascal Frantz
Wichtige Hinweise
This paper is part of a research project—promoted by Arel ('Agenzia di ricerche e legislazione') and sponsored by UniCredit—co-ordinated by Paolo Gualtieri. The authors wish to acknowledge the constructive comments offered by the editors of the special issue, referee, discussant and participants at the Conference on "Mergers and Acquisitions of Financial Institutions"—FDIC, Federal Reserve Bank of Chicago. A special thank to Francesco Virili for his assistance in setting up the database. The authors are grateful for the assistance in the data collection offered by Francesco Pisano and Livia Spata, and for the comments offered by Philip Molyneux, Allen Berger, Agostino Fusconi and Francesco Cesarini.
Abstract
This paper investigates whether M&A operations influence the performance of banks. Using a sample of 714 deals involving EU acquirers and targets located throughout the world over the period 1991–2005, we investigate whether M&A operations are associated with improved performance (using both standard accounting ratios and cost and alternative profit
X
-efficiency measures). Despite the extensive and ongoing consolidation process in the banking industry, we find that M&A operations are associated with a slight deterioration in return on equity, cash flow return and profit efficiency and with a marked improvement in cost efficiency. Hence, the improvements in cost efficiency appear to be transferred to bank clients. These changes in performance are directly attributable to the M&A operations, and would not have occurred in their absence. Moreover, these changes exhibit a particularly negative trend for cross-border deals to testify the importance of geographical relatedness in order to achieve better post-M&A performance. The environmental and bank-characteristics that make a deal successful or unsuccessful are finally identified.