14.08.2020 | Original Article | Ausgabe 2/2021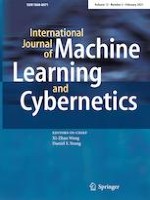 M-pSC: a manifold
p

-spectral clustering algorithm
Autoren:

Ling Ding, Shifei Ding, Yanru Wang, Lijuan Wang, Hongjie Jia
Wichtige Hinweise
Publisher's Note
Springer Nature remains neutral with regard to jurisdictional claims in published maps and institutional affiliations.
Abstract
Since
p
-spectral clustering has good performance in many practical problems, it has attracted great attention. The Cheeger cut criterion is used in
p
-spectral clustering to do graph partition. However, due to the improper affinity measure and outliers, the original
p
-spectral clustering algorithm is not effective in dealing with manifold data. To solve this problem, we propose a manifold
p
-spectral clustering (M-pSC) using path-based affinity measure. First, we design a path-based affinity function to describe the complex structures of manifold data. This affinity function obeys the clustering assumption that the data pairs within the manifold structure share high affinities, and the data pairs between different manifold structures share low affinities. This will help us construct a good affinity matrix, which carry more category information of the points. Then we propose a M-pSC algorithm using the path-based affinity function. In the Cheeger cut criterion, the
p
-Laplacian matrix are constructed based on the manifold affinity function, and the final clustering results are obtained by using the eigenvectors of graph
p
-Laplacian. At last, the proposed algorithm is tested on several public data sets and the experiments show that our algorithm is adaptive to different manifold data. Compared with other popular clustering algorithms, our algorithm has good clustering quality and robustness.