01.04.2015 | Ausgabe 4/2015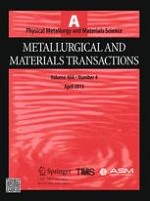 M3B2 and M5B3 Formation in Diffusion-Affected Zone During Transient Liquid Phase Bonding Single-Crystal Superalloys
Zeitschrift:
Autoren:

Naicheng Sheng, Xiaobing Hu, Jide Liu, Tao Jin, Xiaofeng Sun, Zhuangqi Hu
Wichtige Hinweise
Manuscript submitted April 23, 2014.
Abstract
Precipitates in the diffusion-affected zone (DAZ) during transient liquid phase bonding (TLP) single-crystal superalloys were observed and investigated. Small size and dendritic-shaped precipitates were identified to be M3B2 borides and intergrowth of M3B2/M5B3 borides. The orientation relationships among M3B2, M5B3, and matrix were determined using transmission electron microscope (TEM). Composition characteristics of these borides were also analyzed by TEM energy-dispersive spectrometer. Because this precipitating phenomenon deviates from the traditional parabolic transient liquid phase bonding model which assumed a precipitates free DAZ during TLP bonding, some correlations between the deviation of the isothermal solidification kinetics and these newly observed precipitating behaviors were discussed and rationalized when bonding the interlayer containing the high diffusivity melting point depressant elements and substrates of low solubility.