21.05.2020 | ORIGINAL ARTICLE | Ausgabe 3/2020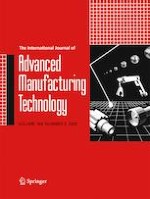 Machinability investigations of hardened steel with biodegradable oil-based MQL spray system
Autoren:

Munish Kumar Gupta, Mozammel Mia, Muhammad Jamil, Rupinder Singh, Anil Kumar Singla, Qinghua Song, Zhanqiang Liu, Aqib Mashood Khan, M. Azizur Rahman, Murat Sarikaya
Wichtige Hinweise
Publisher's note
Springer Nature remains neutral with regard to jurisdictional claims in published maps and institutional affiliations.
Abstract
Excessive use of coolant is undesirable in machining due to environmental consciousness; thereby, small but efficacious (improved thermal and tribological properties) amount of coolant has been implemented using minimum quantity lubrication (MQL). In this study, attention was focused on the experimental investigations on tool flank wear, chip morphology, surface roughness (
R
a
and
R
q
) and chip-tool interface temperature in the machining of hardened steel (~ 40 HRC) under olive oil-assisted MQL spray system. As investigating factors, the cutting speed, feed rate, and depth of cut were oriented by following the Taguchi orthogonal array. Then, the cooling and lubrication mechanism of the olive oil-assisted MQL system has been discussed. Outcomes of this study showed that MQL is capable of generating favorable machining outcomes, i.e., lower tool flank wear, reduced temperature, and surface roughness in comparison with dry cutting. The reductions in
R
a
,
R
q
, and cutting temperature were about 23.4%, 23.8%, and 24% respectively in terms of mean values. The two types of dominant chip shapes, i.e., (1) continuous tubular and (2) discontinuous small diameter chips, were produced under the dry and MQL-assisted cooling method. In the nutshell, it is appropriate to claim that the overall thermal and tribological properties of olive oil-assisted MQL system are responsible for fruitful results during turning of hardened steel.