2015 | OriginalPaper | Buchkapitel
4. Macroscale Modeling of the Electroplastic Effect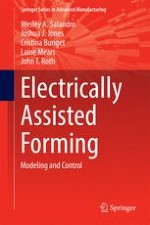 Erstes Kapitel lesen
Autoren: Wesley A. Salandro, Joshua J. Jones, Cristina Bunget, Laine Mears, John T. Roth
Abstract
For successful implementation of EAF in manufacturing industries, one area that needs to be addressed is the predictability or material response at a bulk level. This chapter introduces the modeling strategy for the electroplastic effect at the macroscale, which are used for compressive modeling (Chap.
5
) and tensile modeling (Chap.
6
). For macro-level modeling of EAF in Chaps.
5
and
6
, the models use a coupled thermo-mechanical approach based on energy and displacement continuity. Additional laws utilized in Chaps.
5
and
6
include: the first law of thermodynamics, Joule's first law for heat generation, Fourier's law for conduction, and Newton's law of cooling.