2017 | OriginalPaper | Buchkapitel
5. Mafic Lower-Mantle Mineral Association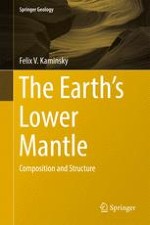 Erstes Kapitel lesen
Autor: Felix V. Kaminsky
Abstract
Mafic mineral association in the lower mantle is subordinate to the ultramafic one. It includes bridgmanite , CaSi-perovskite , SiO
2
and anhydrous aluminous phases . The former three are the same as that observed in the ultramafic association ; but their chemical compositions differ from those in the ultramafic association, mainly in the significant enrichment of Al. Among aluminous phases the NAL phase occurs at low-pressure conditions and is replaced by a CF phase at a depth of 800–1200 km depth. NAL phase is also concentrated in Na and K, while CF phase does not contain K. The partition coefficient of aluminium between bridgmanite and the NAL phase vary from 0.10 to 0.26, demonstrating that the Al enrichment in bridgmanite occurs at the expense of the Al decrease in the NAL phases. The Al concentration in the CF phase remains constant and the Al concentration in bridgmanite, after reaching maximal concentrations (24–25 wt%) with disintegration of the NAL phase, remains constant as well. In addition to the major minerals, phase Egg ,
δ
-AlOOH, and a series of dense hydrous magnesium silicates (DHMS) are expected to be present in the mafic association . Among these DHMS, Phase D and Phase H are most likely to occur in the subducting slabs within the lower mantle. Some of these minerals (phase Egg and
δ
-AlOOH) are observed in natural geological materials; the others have only been synthesized in laboratory experiments.