2017 | OriginalPaper | Buchkapitel
9. Magnani's Manipulative Abduction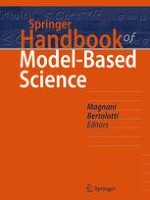 Erstes Kapitel lesen
Autor: Woosuk Park
Verlag: Springer International Publishing
Abstract
Despite the extensive research in logic, cognitive science, artificial intelligence, semiotics, and philosophy of science, there is no sure proof that we have better or deeper understanding of abduction than its modern founder, Charles S. Peirce. In this sense, one of the most important developments in recent studies on abduction is Lorenzo Magnani's discovery of manipulative abduction . In this paper, I shall examine in what ways Magnani goes with and beyond Peirce in his views on manipulative abduction. After briefly introducing his distinction between theoretical and manipulative abduction (Sect.
9.1
), I shall discuss how and why Magnani counts diagrammatic reasoning in geometry as the prime example of manipulative abduction (Sect.
9.2
). Though we can witness an increasing interest in the role of abduction and manipulation in what Peirce calls theorematic reasoning, Magnani is unique in equating theorematic reasoning itself as abduction. Then, I shall discuss what he counts as some common characteristics of manipulative abductions (Sect.
9.3
), and how and why Magnani views manipulative abduction as a form of practical reasoning (Sect.
9.4
). Ultimately, I shall argue that it is manipulative abduction that enables Magnani to extend abduction to all directions to develop the eco-cognitive model of abduction. For this purpose, fallacies and animal abduction will be used as examples (Sect.
9.5
).