15.07.2021 | Original Research Article | Ausgabe 10/2021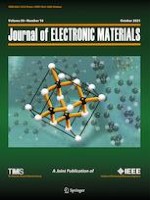 Magnetic Exchange Coupling in an Orthorhombic Mn2SnS4 System
Zeitschrift:
Autoren:

H. Bouhani Benziane, M. Sahnoun, K. Bettine, O. Sahnoun, K. Hebali
Wichtige Hinweise
Publisher's Note
Springer Nature remains neutral with regard to jurisdictional claims in published maps and institutional affiliations.
Abstract
The electronic structure and magnetism of Mn
2
SnS
4
are analysed with full-potential first-principles calculations. In order to understand the possible influence of magnetic structure, we have performed calculations of total energies for both ferromagnetic (FM) and antiferromagnetic (AFM) orderings. Antiferromagnetic ordering is of three types. Our computed results reveal that Mn
2
SnS
4
exhibits an AFM-I type antiferromagnetic ordering. The exchange interaction parameters, which reflects the electrostatic Coulomb repulsion of electrons on neighboring atoms and the Pauli principle, were estimated to be
J
1
= − 14.1 meV,
J
2
= − 5.3 meV and
J
3
= − 8.2 meV according to the Heisenberg model. It was shown that all values are negative and J
1
has the highest absolute value, demonstrating strong antiferromagnetic pairing dominating between the nearest magnetic Mn ions and weak antiferromagnetic coupling within the next-nearest Mn ions. The position of the sulfur atoms have no impact on the values of the aforementioned energies, which validates that the magnetism in Mn
2
SnS
4
is dominated mainly by direct exchange. The associated energy differences involving spin orderings can be used to evaluate the critical temperature of the compounds Mn
2
SnS
4
. Our calculations show that taking into account the spin–orbit coupling has no significant effect on the accuracy of the band gap of Mn
2
SnS
4
. The calculated results of equilibrium volume, antiferromagnetic ordering type, local magnetic moment, and band gap are in good agreement with reported experimental results. The relative differences between spin configurations can be used to derive observables such as Curie-Weiss temperature (
θ
). The Curie-Weiss temperature is calculated using the mean-field approximation. Reasonable agreement with the experiment is found for all properties including the equilibrium volume, local magnetic moment, antiferromagnetic ordering type, band gap, and the Curie-Weiss temperature.