24.06.2020 | Ausgabe 9/2020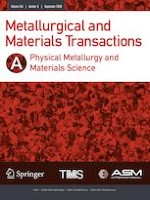 Magnetic-Field-Induced Liquid–Solid Interface Transformation and Its Effect on Microsegregation in Directionally Solidified Ni-Cr Alloy
Zeitschrift:
Autoren:

Shengya He, Chuanjun Li, Zhaojing Yuan, Weidong Xuan, Jiang Wang, Zhongming Ren
Wichtige Hinweise
Manuscript submitted February 25, 2020.
Publisher's Note
Springer Nature remains neutral with regard to jurisdictional claims in published maps and institutional affiliations.
Abstract
The transformation of liquid–solid interface induced by the steady magnetic field (SMF) in the directionally solidified Ni-10 wt pct Cr alloy was studied experimentally. At the moderate pulling rate (50 μm s−1), it could be observed that the interface morphology gradually transformed from planar to cellular shape with increasing the SMF intensity (0 T, 3 T, 6 T). However, the cellular interface at the high pulling rate (100 μm s−1) was not influenced by the SMF. 3D numerical simulations suggested that the transformation of interface morphology originated from the thermoelectric magnetic convection near the wavelike interface at the early stage of solidification. From the composition measurement, it was found that the formation of microsegregation at the moderate pulling rate was associated with the interface morphology. Under the 3 T SMF, the liquid–solid interface remained planar and the microsegregation level increased in comparison with that without the SMF. Under the 6 T SMF, the liquid–solid interface became cellular and the microsegregation level was reduced. The factors affecting microsegregation were evaluated. The effective partition coefficient was estimated based on composition data. It was revealed that the effective partition coefficient increased with the 6 T SMF due to the thermoelectric magnetic and magnetic damping effects within the cellular structure. Additionally, the solid diffusivity was measured using the diffusion couple technique. It was found that the interdiffusion coefficient of Cr decreased with increasing the SMF intensity. The modified Brody model was used to predict the microsegregation behavior in the SMF. The predicted results were in agreement with experimental observation. It could be concluded that the decrease in solid diffusivity enhanced the formation of microsegregation for the planar interface, whereas the increase in effective partition coefficient in the SMF was beneficial for alleviating the extent of microsegregation for the cellular interface.