01.10.2011 | Ausgabe 7/2011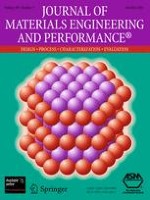 Magnetic Properties and Nanocrystalline Phases in Sn Containing SmCo5 Alloys
Zeitschrift:
Autoren:

Hamid Zaigham, F. Ahmad Khalid
Abstract
SmCo
5
alloys with Sn additions (0.2-2.0 at.%) were prepared by mechanical milling of arc-melted samples. The nano-phase structures and magnetic properties of as-milled powders were investigated. The Sn additions resulted in development of nanocrystalline structures producing exchange-coupled magnets with better remanence magnetization to maximum magnetization ratios (
M
r
/
M
max
), typically 0.92 at 9.9 kOe coercivity. In addition, it was observed that the Sn concentrations lead to higher
M
r
/
M
max
ratios and maximum magnetization accompanying lower coercivity. X-ray diffraction revealed formation of 2:17 and 2:7 phases in 1:5 matrix, which were found to be dependent on Sn percentage. It appeared that higher Sn concentrations promoted 2:17 phase and helped in the formation of nano-sized phases.