13.11.2017 | Energy materials | Ausgabe 5/2018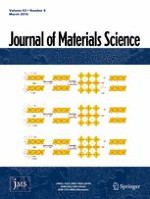 Magnetocaloric effect in Mn1−

x

CoGeSi

x

alloys
Zeitschrift:
Autoren:

Xiaodong Si, Yongsheng Liu, Yulong Shen, Wenying Yu, Xinxiu Ma, Zhanxian Zhang, Yan Xu, Tian Gao
Abstract
A comprehensive study of the magnetic transition, magnetocaloric effect, critical behavior, and universal behavior for Mn
1−

x
CoGeSi
x
(
x
= 0.02, 0.04, 0.06, and 0.08) system is reported. The Curie temperature increases from 270 to 289 K as the Si doping increases, while the maximum magnetic entropy change (|Δ
S
M
|) decreases from 3.08 to 2.67 J/kg K (5 T), consistent with the shift of magnetic moment. Various techniques are used to determine the critical exponents and confirm the validity of the obtained critical exponents, revealing long-range interactions in this system. The Landau theory and universal behavior are used to evidence the second-order nature of the transition. Moreover, the new method to estimate the spontaneous magnetization estimated from the magnetic entropy change is verified.