2019 | OriginalPaper | Buchkapitel
Maintaining Sustainable Level of Human Performance with Regard to Manifested Actual Availability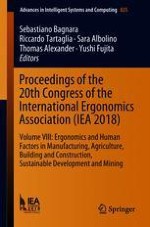 Erstes Kapitel lesen
Autoren: Marija Molan, Gregor Molan
Abstract
Artificial intelligence enables us to gain new insights in psychometric data; this article in particular explores new relationships between attributes (categories) of Questionnaire Actual Availability (QAA) from AH-Model uncovered by implementation of decision trees classification algorithms. Clustering analysis was already employed in development of QAA – it identified composite attributes on which decision tree classification was deployed. Already imbedded clustering analysis thus enabled us to do efficient feature construction and selection and negated the need to employ tree pruning or any other noise reduction algorithm.
The QAA has been implemented on the sample of 2031 workers from the financial sector. Estimations of actual availability parameters have been implemented for the average working day.
In regard to prediction of general actual availability the most important feature is psychical fatigue. The first level of decision tree divides population in 2 intervals of different levels of psychical fatigue.
The depth of the decision tree is 5 due to the minimization of prediction error. Presented decision tree with maximum depth 5 describes 100% of influential attributes determining human performance in real working situation. Only workers who overcome their high levels of psychical fatigue with high motivation and absence or lower levels of stress maintain their high availability.
The presented results upgrade the AH-Model with the specific identification of attributes shaping workers performance and identify the griping points for intervention to keep a sustainable workers' performance.