07.06.2018 | Original Paper | Ausgabe 3/2019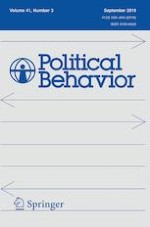 Major Life Events and the Age-Partisan Stability Association
Zeitschrift:
Autor:

William R. Hobbs
Wichtige Hinweise
Electronic supplementary material
Replication code and data for this paper are available in the Political Behavior Dataverse at:
https://​doi.​org/​10.​7910/​DVN/​TKORD8
. The California Voter Record can be obtained for research purposes from the California Secretary of State.
Abstract
Stable partisanship in the United States is often attributed to attachments to political parties that become slowly and incrementally stronger with age. Here, I show that switches in partisan identification can happen quickly after major life transitions even in old age and that this pattern of party-switching can explain a surprisingly large fraction of the age-partisan stability association. Using voter registration information over 8 years for more than 20 million voters in California, in combination with American National Election Studies panel surveys, I measure how many individuals switch party affiliation when they move to new homes, switch when separating from a partner, and become less likely to switch after retirement. In both ANES and voter record analyses, accounting for residential mobility alone reduces the association between age and party-switching by 50% or more. The combined findings demonstrate that socially crystallized lives help drive steady partisanship in adulthood and suggest that continuity in day-to-day life could maintain partisan identity at 30 years old almost as much as it does at 60.