2019 | OriginalPaper | Buchkapitel
6. Making Financial Sustainability Measurement More Relevant: An Analysis of Consolidated Financial Statements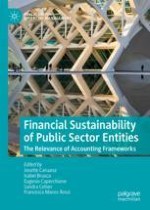 Erstes Kapitel lesen
Autoren: Cristian Carini, Claudio Teodori
Abstract
This chapter seeks a deeper understanding of local government groups' financial sustainability by analysing consolidated financial statements. Its aim is to evaluate how measures of local government financial stability change when the analysis centres on consolidated, rather than separate, financial statements.
Financial statement results are analysed for sustainability, flexibility, and vulnerability. A benchmark analysis is implemented to determine if assessments of financial sustainability differ between separate versus consolidated financial statements.
The results reveal a clear difference between the separate and consolidated financial statement outcomes. The presence of dependent municipal entities leads to different considerations about financial sustainability than those emerging from analyses of separate financial statements. The difference arises in all three dimensions: sustainability, flexibility, and vulnerability. None of the local governments achieved the same ranking across the two financial statements.
Although the empirical analysis involves the Italian context, the results provide useful insight for the wider international debate on harmonization processes, as initiated by the European Commission. Assessing consolidated financial statements requires a clear identification of the "boundary" of the financial statement. This point presupposes that reporting entities have to be carefully identified.