2019 | OriginalPaper | Buchkapitel
Making Room for Our Personal Posthuman Prisons:
Black Mirror's

"Be Right Back"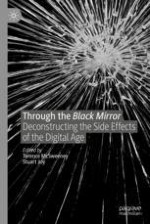 Erstes Kapitel lesen
Autor: Andrew Schopp
Abstract
By drawing on surveillance theory, assessments of the market processes undergirding our liquid modern investments in technology, and explorations of our posthuman future, Schopp analyzes the
Black Mirror
(2011–) episode "Be Right Back" as a telling metaphor for the individual in her/his relationship to a "post-panoptic" capitalist culture. Schopp contends that the episode signals the dangers that we likely face in any posthuman future, depicting such a future as existing somewhere in-between the idealized, utopian version that futurists imagine and the dystopian renderings so often depicted in pop-culture. Schopp argues that the episode underscores how the future we incur will be the result of our quotidian undertakings and of our decision to make room in our lives for technology, and thus this episode reminds us that moving forward mindlessly with our social media and making more and more space in our lives for technology are actions that will likely frame, even determine, our posthuman selves. But since such actions might also inadvertently construct personal posthuman prisons, they are moves forward from which we might not readily come back.