2018 | OriginalPaper | Buchkapitel
Management and Leadership Development Needs: The Case of Poland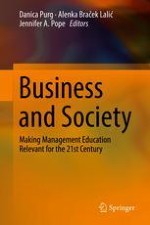 Erstes Kapitel lesen
Autoren: Dorota Dobija, Anna Górska, Sylwia Hałas-Dej
Abstract
In this study, we have interviewed 18 CEOs and human resource managers from 10 companies listed on the Warsaw Stock Exchange as well as conducted a survey with 82 companies. We found that the major challenges said actors face are connected to the changing politics, economy, technology and demography. On the other hand, companies also struggle with the lack of certain employee competences, in particular soft skills. Company solutions include development and educational programs, but they also expect increased cooperation with educational providers, especially business schools. The companies' development needs are sophisticated and subtle, meaning that the 'one-size-fits-all' development model is no longer suitable. Companies are looking for specific, tailor-made content to suit their and their employees' needs. The flexibility of educational programs also determines whether employers will consider them for their companies.
Instead of periodic development programs for everyone imposed by the human resource department, companies opt for programs when faced with a particular challenge. In the majority of cases, the initiative to participate in management development comes from the department or individuals. Moreover, companies currently prefer short-term programs over the complex courses offered by universities. It has also been emphasized that as of now, there are missing links between educational institutions and business entities, as the former are seen as being detached from market needs and lacking a more practical approach in their teachings.
Within the following study, we provide recommendations for management development and education providers as an answer to the current challenges companies face. The study concludes that in order to remain competitive, educational institutions need to observe the markets demands and adjust their offer accordingly.