2014 | OriginalPaper | Buchkapitel
7. Management of Asian Honeybees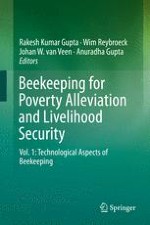 Erstes Kapitel lesen
Autoren: Devinder Sharma, Rakesh Kumar Gupta
Verlag: Springer Netherlands
Abstract
Asian sub continent is very rich in honeybee diversity having Indigenous honeybees (
Apis cerana
,
Apis laboriosa
,
Apis dorsata
,
Apis florea
) have co-existed through centuries and kept on going without inter specific transfer of diseases and parasites. The beekeeping is possible in all those areas which have sufficient floral resources. Among these,
A. cerana
is the only species that can be managed in hives, but the single combs of the other two are collected by honey hunters. The efforts have been made throughout the Asian sub continent to manage the
A. dorsata
and
A. florea
. The success of beekeeping depends upon understanding of the biology and behaviour of honeybees, their management techniques including knowledge of their diseases and enemies for handling them.