2017 | OriginalPaper | Buchkapitel
10. Managerial Fractal Intelligences: Psychometric Evidence for Empowering the Theory of Multiple Intelligences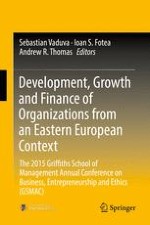 Erstes Kapitel lesen
Autoren: PhD Dumitru Grigore, PhD Mihai Florin Talpos, PhD Ioan G. Pop
Abstract
Long before Gardner proposed his model of multiple intelligences, an important question has been constantly fueled by both management theorists and practitioners: "Is the quality of the decision making process linked with the genetic heritage that managers have in terms of intellectual potential?"
Each person and (by default) each manager is thought to be born with an almost unchangeable intellectual potential, which can impact the manner in which they execute a specific managerial task. While examining whether a managerial decision was cleverly or foolishly reached, or otherwise the decision was handled intelligently or ineptly, we can find distinctive connotations of the multiple intelligences model, which may feed the assumption that there are certain criteria for a behavior to be considered a managerial intelligence.
The main objective of the paper is to reveal a part of the interesting conclusions that were brought to light by a daring research initiative of a Romanian psychometric technologies inventor (Dumitru Grigore), in the field of multiple intelligences.
The paper starts from debating on the limitations of Gardner's model of multiple intelligences and continues with exploring the main principles of analysis that were used for identifying the fractal intelligences and then the managerial fractal intelligences. The discussion leads to a set of well-articulated assumptions, reinforced by concrete results of a research conducted on a sample of over 4500 subjects, tested with the help of modern psychometric technologies, which are based on the EDA concept (electrodermal activity).
The authors' approach can represent a fresh perspective on the multiple intelligences theory, which might be of interest to students, researchers, managers, or psychologists.