2018 | OriginalPaper | Buchkapitel
3. Managing Choice, Negotiating Power: Remote Controls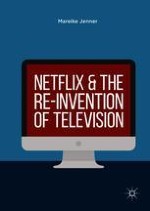 Erstes Kapitel lesen
Autor: Mareike Jenner
Abstract
This chapter looks at the remote control as, as the name suggests, maybe the ultimate technology of control within the context of television's ancillary technologies. Though television remote controls were first introduced in the late 1940s, they became more accurate and cheaper to manufacture in the 1980s (see Benson-Allott,
Remote Control
. Bloomsbury, New York,
2015
), meaning that they became increasingly common among owners of a television set throughout the decade. In the context of the proliferation of channels through cable, remote controls became crucial in managing extended choice. The 'triple threat' of remote controls, cable and the VCR led to changes in programming and in adjustments to advertising in order to uphold the financing model of commercial television. Furthermore, social debates about systems of power surrounding gender and class were often formulated around the object of the remote control. Thus, this chapter discusses concepts of power and control in relation to the remote control from various angles.