2017 | OriginalPaper | Buchkapitel
Managing for Return on Social Innovation (ROSI): Pillars for Sustainable Social Impact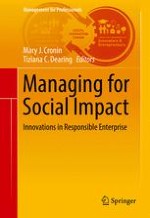 Autor: Tiziana C. Dearing
Abstract
As global focus on Corporate Social Responsibility, impact investing, and systems change increases, large-scale and cross-sector initiatives have emerged that attempt to create sustainable impact on some of the most intractable social problems. These efforts range in size—from local to global; in scope—from a few parties to massive collaborations; and in sector of origin—public, private, or nongovernmental. As yet, however, it has been difficult to articulate a framework of best practice strategies for positive, sustainable success in such endeavors.
This chapter argues that emerging best practices do, however, suggest four common pillars for sustainable social impact. When employed from the beginning in social change strategies, they not only can increase the likelihood of creating positive social impact, but also can help overcome common challenges faced by long-term, systems change endeavors, including challenges of scaling, sustainability, and measurement.
The chapter then looks forward, to management and measurement practices required to support sustained implementation of these strategies. Persistent Change Perspective and an accompanying persistent change measurement approach become essential factors in the strategies used by collaborating parties, as well as in the cultures of teams, managers, and organizations involved.