2015 | OriginalPaper | Buchkapitel
18. Managing Water Variability Issues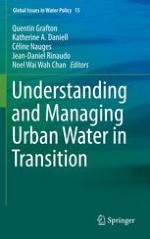 Erstes Kapitel lesen
Autoren: Hugh Sibly, Richard Tooth
Verlag: Springer Netherlands
Abstract
Despite the growing use of manufactured sources, urban centres still predominantly rely on climate-dependent water sources. In many cases, the supply is subject to significant variability and uncertainty, and there is concern that climate change will increase this. Variability and uncertainty create a number of significant issues that need to be managed. This chapter reviews the issues and considers alternative approaches to managing them.
The chapter begins with a general discussion of the features of urban water supply and the issues created by variability and uncertainty, many of which are common to other infrastructure industries. These include the issues of pricing and optimal timing of 'lumpy' investments when there is uncertainty.
This chapter then focuses on a key feature of many urban water systems: that of large, cheap storage. Storage has implications for both the problem of lumpy investments and how uncertainty is managed. These implications are examined, including consideration of how storage affects investment and pricing decisions.
An emerging issue is that of water security. The risk of a major urban centre running out of water is a key driver of urban water policy. Often there is a lack of clarity about how water security goals and criteria are established. This chapter considers the government's role in providing water security and how this may change as diversity of supply increases.
This chapter also considers governance arrangements in the face of uncertainty. Commonly, urban water augmentation decisions, pricing, and operational decisions are centrally managed by government agencies and/or government-owned organisations. However, markets offer a potential alternative that is more responsive to changed conditions and needs. The potential for markets to help deal with the issue of uncertainty is explored.