01.06.2011 | Original Paper | Ausgabe 3/2011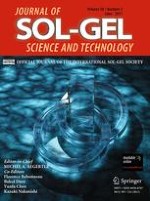 Manganeseporphyrins immobilized on silica microspheres as biomimetic catalysts hydroxylating cyclohexane with molecular oxygen
Zeitschrift:
Autoren:

Jin-Hua Cai, Jin-Wang Huang, Han-Cheng Yu, Liang-Nian Ji
Abstract
Three types of silica microspheres immobilizing Mn(III) porphyrins appending
p
-CH
3
,
p
-H and
p
-Cl phenyl substituents (designated as MnMP-S-SiO
2
, MnPP-S-SiO
2
and MnCP-S-SiO
2
, respectively) have been synthesized and characterized using SEM, IR, UV-vis and TG. The SEM images show that the morphology of the silica microspheres is spheriform with ca. 2–4 μm diameter. The catalytic performances of various supported biomimetic catalysts for the hydroxylation of cyclohexane in the presence of molecular oxygen under mild conditions have been investigated and compared detailedly. The experimental results confirmed that the catalytic efficiencies of these silica microspheres are much higher than those of the free Mn(III) porphyrin analogues and follow the order of MnMP-S-SiO
2
> MnPP-S-SiO
2
> MnCP-S-SiO
2
. All these results indicate that the grafting particles can not only protect metalloporphyrin from oxidation, but also promote it to activate O
2
. They are mild, reusable and highly efficient heterogeneous catalyst for the epoxidation of cyclohexene. The effect of substituent groups was also discussed.