01.06.2015 | Original Paper | Ausgabe 6/2015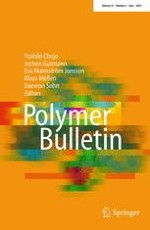 Mangiferin as chain transfer agent: effect on the molecular weight of poly(methyl methacrylate) and polystyrene
Zeitschrift:
Autoren:

Shilpa Jaiswal, Kalyan Ramesh, Govinda Kapusetti, Amit Kumar Ray, Biswajit Ray, Nira Misra
Abstract
Free radical polymerization of methyl methacrylate (MMA) and styrene (St) has been performed in
N,N
-dimethylformamide (DMF) at 70 °C in the presence of varying concentration of mangiferin as chain transfer agent using 2,2′-azobisisobutyronitrile (AIBN) as initiator. With increase in mangiferin concentration, molecular weight of the obtained polySt gradually decreases as expected due to the chain transfer phenomenon, but that of polyMMA interestingly increases possibly due to the preferential auto-acceleration phenomenon during MMA polymerization in the presence of higher concentration of mangiferin. The observed chain transfer constant of mangiferin for styrene polymerization is 0.14. The incorporation of mangiferin in the resultant polymers is confirmed by FTIR and UV–Vis studies.
Graphical abstract
×