2017 | OriginalPaper | Buchkapitel
26. Mangrove Restoration: An Overview of Coastal Afforestation in India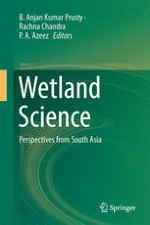 Erstes Kapitel lesen
Autor: G. A. Thivakaran
Verlag: Springer India
Abstract
Mangroves, a major wetland type in the intertidal belt, are one of the most productive ecosystems in the world. With their annual disappearance at the rate ~1%, mangrove conservation through plantation has gained an unprecedented significance in the recent decades. Many South and Southeast Asian countries are regularly engaged in mangrove restoration initiatives through massive plantation initiatives. Akin to this trend, mangrove wetland restoration in terms of plantation is underway in the Indian state of Gujarat where plantation to the tune of 30,000 ha has been completed so far. The Gulf of Kachchh (GoK) coast of Gujarat in India has witnessed sustained mangrove plantation efforts in the last two decades.
Avicennia marina
is the preferred candidate species in this region due to its environmental plasticity.
In the Gulf of Kachchh, three different plantation techniques, namely, (a) transplantation of nursery-raised saplings, (b) raised bed method, and (c) direct propagule dibbling, are generally followed either singly or in combination to raise mangrove plantation. These different techniques have their own pros and cons though transplantation of nursery-raised saplings is considered as most successful. Many unresolved issues such as high incidence of mortality, poor site selection, poor technical skills, and legal bottlenecks in obtaining appropriate sites cripple mangrove plantation in the GoK. Proactively involving coastal industries in mangrove restoration activities together with participation of other stakeholder coastal communities could be more meaningful and productive. Thus, an integrated sustainable mangrove management plan encompassing different stakeholders is suggested. It is also recommended that instead of plantation as the sole measure of restoration, other restoration techniques such as biophysical amendments could be undertaken.